Does applying for a nursing license in a new state make you cringe? Let's be honest, we all cringe at the thought of another application. If every state could just be part of the "Compact States," life would be sooooo good!!
Unfortunately, not all states are part of the compact states for licensure. While more states are joining the Nurse Licensure Compact, there are still 11 states that require complete applications as of this printing. There are 8 states (in green below) with pending legislation to join the compact, so cross your fingers, within a year or two, these will all be included!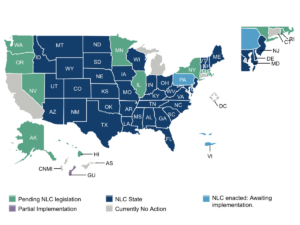 The process of getting your nursing license may seem complicated, time-consuming, and costly. There are different requirements in different states and not so easy to follow application directions. In general, the following applies for new applications in non-compact states.
• You will need to complete the application by endorsement (if you already have a state license) or by exam if this is your first license. Many states have online applications, but a few still have paper applications that you will print, complete and mail in.
• In almost every state, you will need to be fingerprinted as part of the application process. This may be done at your local State Patrol office, Sheriff's office, or local Police station. In some larger cities there are individual vendors who will do this for you. Call ahead as most individual and government entities require an appointment. If you anticipate applying for more than one state license in a short time frame, I would encourage you to complete these within a few days of each other so you only need to be fingerprinted once! Ask for extra cards when being fingerprinted so you do not have to make another trip. Keep in mind though, that most prints must be no more than 30-60 days old when submitted. Check the state requirements.
• Check each states required continuing education. Is it required before you apply or by the time you renew for the first time? Most large online CEU websites have state specific CEU's available to complete
• If you need a license sooner rather than later, make sure you ask for a temporary license if offered until your permanent one is issued. Some states are taking upwards of 90 days to issue licenses currently.
• Most states will ask for a certified copy of your college transcript from which you graduated. Make sure you have this contact information. If required, instructions will be provided.
• Have all your current state nursing licenses available. If you do not have these easily accessible, you may access NURSYS, https://www.nursys.com/NLV/NLVTerms.aspx. On the home page, scroll to the bottom and "agree." On the next page, enter your personal information and all your active licenses/ numbers will be displayed!
• Finally, if you need assistance, reach out to the state Board of Nursing for assistance or ask an experienced traveler, they are pros!!!
**See the state board of nursing licensing links below.
State nursing licensing requirement/application links:
Alabama https://www.abn.alabama.gov/apply/
Alaska https://www.commerce.alaska.gov/web/cbpl/ProfessionalLicensing/BoardofNursing/ApplicationsForms.aspx
Arizona https://www.azbn.gov/licenses-certifications/apply-for-a-license
Arkansas https://www.healthy.arkansas.gov/programs-services/topics/arsbn-licensing
California https://www.rn.ca.gov/applicants/index.shtml
Colorado https://dpo.colorado.gov/Nursing/Applications
Connecticut https://portal.ct.gov/DPH/Practitioner-Licensing–Investigations/Registered-Nurse/Registered-Nurse-Licensure
Delaware https://dpr.delaware.gov/boards/nursing/
Florida https://floridasnursing.gov/licensing/
Georgia https://www.sos.ga.gov/search?division=Licensing&type=how_to_guide&query=nurse
Hawaii https://cca.hawaii.gov/pvl/boards/nursing/
Idaho https://ibn.idaho.gov/licensure/licensing-information/
Illinois https://idfpr.illinois.gov/profs/nursing.asp
Indiana https://www.in.gov/pla/professions/nursing-home/
Iowa https://nursing.iowa.gov/licensure/licensure
Kansas https://ksbn.kansas.gov/
Kentucky https://kbn.ky.gov/Pages/lpn-rn.aspx
Louisiana https://www.lsbn.state.la.us/applications/
Maine https://www.maine.gov/boardofnursing/licensing/index.html
Maryland https://mbon.maryland.gov/Pages/licensing-index.aspx
Massachusetts https://www.mass.gov/nursing-licenses
Michigan https://www.michigan.gov/lara/bureau-list/bpl/miplus-assistant
Minnesota https://mn.gov/boards/nursing/licensure/apply-for-a-license/
Mississippi https://www.msbn.ms.gov/licensure/applications-and-forms
Missouri https://www.pr.mo.gov/nursing.asp
Montana https://boards.bsd.dli.mt.gov/nursing/license-information/
Nebraska https://dhhs.ne.gov/licensure/Pages/Nurse-License-Applications.aspx
Nevada https://nevadanursingboard.org/faq-2/
New Hampshire https://www.oplc.nh.gov/professional-licensing
New Jersey https://www.njconsumeraffairs.gov/nur/Pages/applications.aspx
New Mexico https://nmbon.sks.com/staff-directory.aspx
New York https://www.op.nysed.gov/professions/registered-professional-nursing/application-forms
North Carolina https://www.ncbon.com/licensure-listing-overview
North Dakota https://www.ndbon.org/
Ohio https://nursing.ohio.gov/licensing-and-certification
Oklahoma https://nursing.ok.gov/
Oregon https://www.oregon.gov/osbn/pages/index.aspx
Pennsylvania https://www.dos.pa.gov/ProfessionalLicensing/BoardsCommissions/Nursing/Pages/Nursing-Guide.aspx
Rhode Island https://health.ri.gov/licenses/detail.php?id=231
South Carolina https://llr.sc.gov/nurse/
South Dakota https://doh.sd.gov/boards/nursing/licensure.aspx
Tennessee https://www.tn.gov/health/health-program-areas/health-professional-boards/nursing-board/nursing-board/applications.html
Texas https://www.bon.texas.gov/
Utah https://dopl.utah.gov/nursing/
Vermont https://sos.vermont.gov/nursing/apply-renew/
Virginia https://www.dhp.virginia.gov/Boards/Nursing/ApplicantResources/
Washington https://nursing.wa.gov/licensing/apply-license
Washington, D.C. https://dchealth.dc.gov/node/149342
West Virginia https://wvrnboard.wv.gov/licensing/Pages/default.aspx
Wisconsin https://dsps.wi.gov/Pages/Professions/RN/Default.aspx
Wyoming https://wsbn.wyo.gov/licensing
Lalah Landers, BSN, RN
Clinical Nurse Supervisor
Clinisight, LLC